This felt so good last week, that I'm going to do it again...
*I'm going to give a big ole' flip off to the
traffic
on I95 North that had us go 13 miles in 3 hours...you read that correctly - 13 miles in 3 hours - f'ing ridiculous!
* And a flip off to one that I'll probably be doing quite often - my crazy period-induced
emotions
. Seriously tear ducts?!? Do you need to start filling up with while you sit in the daycare with your daughter?!?! C'mon, at least wait until Monday when you drop her off and you're out of the building!!
And I'm trying something new...first time linking up with
My Little Life
for Five Question Friday...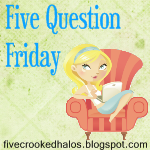 1. Did you have a favorite blanket or toy as a kid? If so, do you still have it?
I never had a blankie - but I did have a favorite doll - Her name was/is Lisa. My mom tried to throw it out but I saved her from the garbage room in our building (true story). She's probably packed up in my boxes o' memories that I keep at my parents' house.
2. Do you dream in color?
Interesting question...I definitely do. And I dream a lot. I have crazy dreams and I remember lots of them.
3. How tall are you? Do you wish you were shorter or taller?
I'm 5'2". Goof things come in small packages...never really thought about being shorter or taller.
4. If you could have anyone's (celeb or other) voice as the guide on your GPS, who would it be?
George Clooney - but only if he was giving me directions to his house.
5. Do you return your shopping cart to the corral or leave it wherever in the parking lot?
Depends. If I'm a lone with Jenna, no way. Any other circumstance, we return.