* I'd like to give a flip off to
Gisele
- your judgemental and thoughtless comments were just ridiculous
* A big flip off to the
humidity
in NY - I am going to get my de-frizz next week because seriously, I can't take this weather, and neither can my hair
* Flip off to whoever decided that
$110
is enough money for a teacher to set up her classroom - that should buy me borders for my bulletin boards and not much else!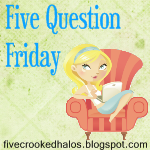 1. Are you a neat sleeper or a messy sleeper?
I would say I'm a neat sleeper, but Mike would probably say I'm a messy one since I hog all the covers. Either way I make my bed every single morning. I cannot go to sleep in a bed that is not made.
2. Fill in the blank. I wish I was more ________________.
Active. Although I feel like I'm constantly running around after Jenna, I wish I did some more excercise. I need to get back into the gym or yoga or running or something.
3. What is something that you wish you had been warned about?
I wish I had been warned that people really don't change and you can try all you want to change someone, but it's not going to happen. So either accept who they are or move on.
4. What was the best thing you ever found at a garage sale/flea market?
I haven't been to one in a really long time, so I'm going back to the 80's with this one. We used to go to the flea market weekly and my favorite pick ups were Champion sweatshirts and Baggie socks. I totally just dated myself.
5. If you could have any meal brought to you right now, what would it be?
I'm writing this after a week of pretty sleepless nights and it's before 6am. So right this second, I would love any meal that has coffee with it.