Joiing
Kludgy Mom
yet again for som Friday Flip-Offs for the week.
* A repeat offender...
contractors
who don't call me back...ummm last I checked we were in a recession and people were looking for work - I need and will be redoing my kitchen and bath within the next couple of months. Call me. You could have a good job on your hands.
*
Parking
by Jenna's daycare. A little annoying. Went to pick her up at 3:30 and didn't get in there until close to 4...you suck!
* People who question (with judgement) why we started her in daycare when I don't officially start working until September. How 'bout trying to go back to work for the first time in 18 months and know that you just left your kid hysterically crying with strangers. Yeah...I'll take a well adjusted good bye for my first day. Thanks.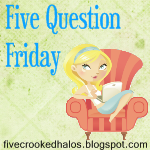 Linking up again with
My Little Life
for some getting to know you questions!
1. Have you ever visited another country?
Visited many and lived in London for 6 months. I love love love to travel. Started when I was a junior in high school and my Spanish teacher took a bunch of us to Italy for 10 days. I caught the travel bug and haven't been able to get rid of it. We're trying to figure out if we can bring Jenna on a bigger trip to Europe soon cause we're ready for another trip.
2. Where is the strangest place you have ever been?
The Bread and Puppet Festival in Vermont about 12 years ago. Traveled there with some friends for a weekend of camping and I just remember huge crazy-looking puppets everywhere. But I don't remember any bread...weird.
3. What is your favorite season?
Tough call between fall and spring. Fall means apple picking, halloween, cool weather, and Mike's birthday. But it also means the beginning of the school year, which isn't always bad. Spring means nicer weather, my birthday and more importantly now, Jenna's birthday. And nearing the
end
of the school year. I'm going to call it a tie!
4. What one song will always cheer you up?
"You're All I Need to Get By" by Marvin Gaye & Tammy Terrell - my wedding song.
5. What Disney character do you resemble most?
So here's the thing, I don't really
do
Disney. I know I will probably be very knowledgeable on this topic in a few years. But right now, not so much. So I googled it and guess what? There's a "Which Disney Character Are You Most Like?" quiz. Check it out
here
if you're interested. It told me I'm Peter Pan. I dunno if that works for me...but he/she was child-like and good. So I guess I'll take it.
Happy Friday Everyone!!